For readers Dealstan has special offer buy Shiva Trilogy by Amish Tripathi at an exciting price @Rs.504. The novel is based on Hindu God Lord Shiva. According to Hindu religion Lord Shiva is considered as destroyer or judge. Lord Shiva is considered as supreme God doing judgement between evil and good for maintaining peace and harmony in the world. Lord shiva is also considered as re-creator married to Goddess Parvati she has various manifestation like Goddess Sati, Kali, Durga, Shakti. The Shiva trilogy novels by Amish have turned out to be an international bestseller and much awaited when it releases. The Shiva Trilogy series of books have won accolades to  Amish for his outstanding work.The Shiva Trilogy is written in three series of books "The Immortals of Meluha","Secret of the Nagas" and "The Oath of the Vayuputras". Orginal price was Rs.800 but dealstan provide 39%Off @Rs.500. Don't wait now cause it'll be over soon.
How to buy Shiva Trilogy all three novels by Amish Tripathi with 39%Off @Rs.500: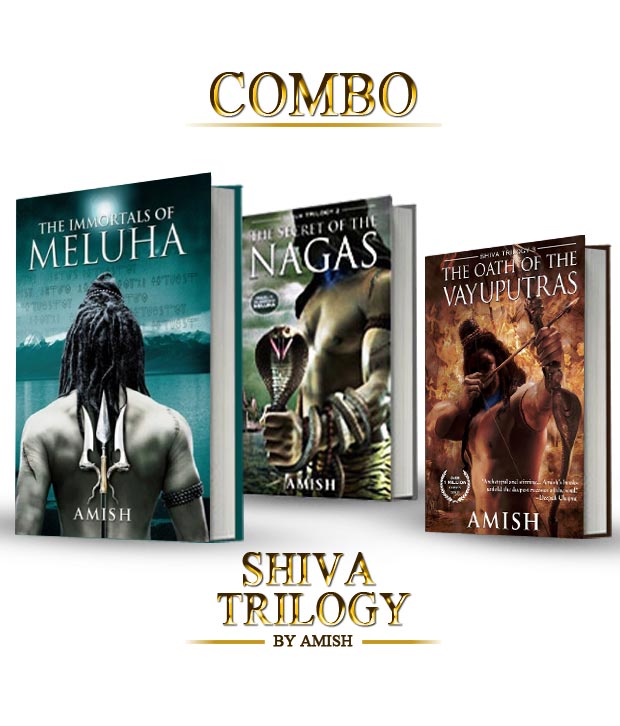 Click on buy now.
No coupon code required
Cash on Delivery.
No shipping charges.
Dispatched in 3 business day.
About the Author:
Amish Tripathi, gave up his banking job to live his dream of becoming a writer. He is an IIM (Kolkata) alumnus who worked for 14 years in the financial services industry. He has penned down three books as Shiva Trilogy, which have received raving reviews and critical appreciation. His style of writing is fresh and has given birth to a new era of literature in India. With philosophy, religion, karma and myth as his main areas of focus, Amish has woven his plots around them and conquered the hearts of many readers with his riveting ideas. He lives in Mumbai with his wife Preethi and son Neel. As is evident from his books, Amish has a passion for religion, philosophy, mythology and history.
Trilogy of Shiva Combo includes:
1. The Immortals of Meluha
Lord Shiva, has been an intriguing personality in the lives of many a Hindus as well as followers of other religions. Amish Tripathi, chose this deity as the protagonist of his pioneer novel series – Trilogy of Shiva. This is not a mythological series full of miracles, this is the story of a man – a human being called Shiva, who lived some 4000 years ago. Shiva, is a Tibetan tribal leader who comes migrates to India with his entire tribe only to become ?the Neelkanth? overnight. The Immortals of Meluha portrays the journey of Shiva from being a tribal leader to Mahadev.
2. Secret of the Nagas
Shiva?s quest for evil continues in The Secret of the Nagas, the second part of Trilogy of Shiva. Shiva, now the husband of Sati and father of Kartik travels all around the country chasing Evil and finds that it's tentacles are spread deep into the civilization. But where is the root of this Evil? Where is it originating? Shiva learns that the people who appeared Evil are themselves the victims of Evil. In The Secret of the Nagas, Shiva has a rendezvous with the truth of Nagas and their connection with the civilization. He unfolds the Naga secret learns that nothing is what it looks like. And with this, his resolve of destroying Evil gets stronger and stronger.
3. The Oath of the Vayuputras
The Oath of the Vayuputras, the third and concluding part of Trilogy of Shiva. In the earlier parts, The Immortals of Meluha and The Secrets of the Nagas, Shiva came to India as a Tibetan immigrant and became the prophesied "Neelkanth" after consuming Somras even before he could indulge in the beauty of Meluha. His acceptance to his fate as the Neelkanth takes him to the quest of destruction of Evil. It is in this quest that he learns that there is no pure Evil or pure Good, for Good and Evil are indeed two sides of the same coin. Yet, in The Oath of the Vayuputras, Shiva decides to end Evil or rather the good that has now turned into evil.