Buying one phone is a big deal these days. Ever thought of buying one phone and getting two free? We know what you are thinking 'Come on, this is not a T-shirt. Buy 1 get 1 free it seems haha' Well, laugh all you want and then listen. Buy 1 Mobile Get 1 Mobiles Free for just Rs.2999 from Snapdeal. It's true!
How to Buy 1 Mobile Get 2 Mobiles Free for Rs. 2999 Only: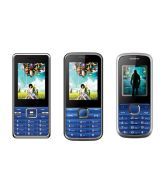 VOX Mobiles are becoming popular simply because of the features embedded in such a simple looking phone. VOX Vps-307 is a dual SIM mobile with a QWERTY keypad. This mobile has been designed in such a way that it gives you a simple look and can easily fit in your pocket. As an additional feature, this phone has auto answer answering machine with recording. 2.0 65K TFT display screen has transverse Color LCD which provides you clear viewing. User can browse MSN, Yahoo, Skype and Facebook  Whatsapp to keep in touch with their friends and family anytime. Buy 1 Mobile Get 1 mobiles free from this deal. Buy one VOX Vps-307 handset and get V107  & V1 handsets free. How about one for your mom, one for dad and one for your favorite uncle!
Product Specification:
Dual Sim Dual Standby (GSM+GSM)
Camera 1.3 Mega pixel VGA
Bluetooth
Display Size 2.0 Inches 65K TFT transverse Colour LCD
QWERTY Keypad
MSN, Yahoo, Skype, Facebook
Dual Battery 700 + 700 mAh total 1400mAh
FM Radio
Dual T-Flash Card Slot – support upto 2GB
High brightness Electric Torch with 5 LED
Support Loudspeaker
Mp3 / Mp4 Player