Getting ready to be a mommy doesn't just mean eating for two, it means dressing for two as well. Just because your body is changing, doesn't mean you have to give up on fashion. And with First Cry, you can upgrade your wardrobe without spending to much money. They currently have a 20% cashback offer on maternity clothes and lingerie. All you have to do is use the discount coupon code MOMMTNY20 while purchasing the outfit you desire. Look as beautiful as you feel.
How to buy Maternity Wear & Lingerie at deal price of Rs 630?
Click here to go to the Store Page.
Select this product and add it to shopping cart.
Proceed to checkout and make payment.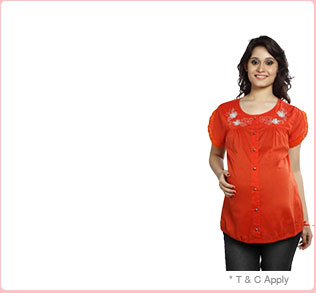 Real Price :

Rs 900

Discount Price:  Rs 630
Coupon Code: MOMMTNY20
Here are some other recommendations for you: 
Uzazi Maternity Short Sleeves Long Tunic Top – Multi Print: Original Price: Rs 945. Discounted Price: Rs 841 only
This lovely printed kurti is the best combination of traditional plus modern design. It will make you look all the more gorgeous. It is very comfortable to use as well as stylish for casual outings. 
Nine Maternity Red Top With Lace work: Original Price: Rs 830. Discounted Price: Rs 775 only 
This red top is sure to enhance your charm and beauty. Feel extremely special and beautiful and look even more pretty than usual wearing this cute top. It is perfect for a special evening. 
Cake Fashion – Convertible Nursing black Bra at Rs 4799 only
Nine – Maternity Camisol top: Original Price: Rs 830. Discounted Price: Rs 765 only 
Another comfortable attire to wear during pregnancy. It is ideal for regular casual wear. Combine it with  comfortable pants or skirt and rock your new look.
Nine – Maternity Top With Folk Embroidery and design: Original Price: Rs 1705. Discounted Price: Rs 1295 only