Wake up to the tune of your favorite radio station with the Philips AJ 3112 Am-fm Alarm Clock Radio from Rediff. The clock cum radio is sleek and you will love to place it in your room. Set the alarm tone to a buzzer or to a radio station of your choice. Wake up with a pleasant experience instead of the irritating sounds of other alarms. It has a repeat alarm feature for additional snooze making sure that you wake up on time. Get up with a tap on your feet and a smile on your face. It is very easy to use. Listen to radio with its AM/FM tuner. It is backed up with battery which ensures that the memory stays even if there is a power failure. Avoid the unnecessary waking up with a jolt and choose to awaken with a tone you will love. A day well started, is a day well spent! Buy this from Rediff at a flat discount rate and just pay Rs. 1275. 

How to buy Philips AJ 3112 Am-fm Alarm Clock Radio from Rediff:
Click on the link here.
Click on buy now.
Proceed to payment.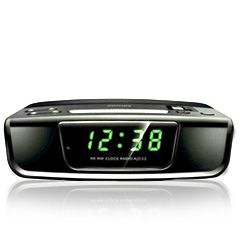 Key Features:
Wake up to your favorite radio tune or a buzzer.
Gentle wake for a pleasant wake up experience.
Repeat alarm for additional snooze.
AM/ FM tuner for radio enjoyment.
Big display for easy viewing.
Sleep timer for easy falling asleep to your favorite music.
Battery back-up ensures memory of time during power failure.
About Philips:
Philips is one of the leading consumer electronics brand. It has provided path breaking home solutions that compel us to try out and make our daily work very easy. Philips as a brand has always focused on the consumer and its consumer centric products are just great to use.