Philips Stereo PC headset SHM1900 at Flat Rs 489 provide the most comfortable experience for you to chat online or play games in your PC. These headphones are light weight and hence are easy to use for longer hours. The head strap is adjustable and can be set according to your best fit. This is a truly one size fits all product. The mic receives the voice well and transmits it by reducing the noise for a clear voice transmission. The mic is adjustable and can be set up precisely to pickup your voice optimally. It has an in-line volume controller for you to set the volume without moving from your seating position. It is compatible with most of the computers and laptops. Buy the Philips Stereo PC headset SHM1900 at Flat Rs 489 from maniacstore and save Rs. 210!
How to buy Philips Stereo PC headset SHM1900 at Flat Rs 489:
Click on the link here.
Click on buy now.
Proceed to payment.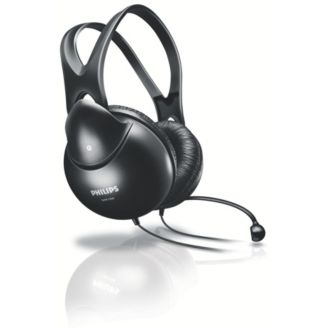 Key Features:
Position the microphone for optimized voice pick-up.
Personalize the fit for extra comfort during extended use.
Lightweight design improves comfort for prolonged use.
Superb sound performance.
In-line control that simplifies volume adjustment.
About Philips:
Philips is a Dutch diversified technology company headquartered in Amsterdam with primary divisions focused in the areas of Healthcare, Consumer Lifestyle and Lighting. It was founded in Eindhoven in 1891 by Gerard Philips and his father Frederik. It is one of the largest electronics companies in the world and employs around 122,000 people across more than 60 countries.