Kids are kids. Naughty, lovable, cute, rolly-polly and very much a part of our lives. They have their own fancies, tastes and yes fashion needs too. That's why they make a sharp generation who is constantly on the move to make them look smarter, peppier, cutie pie and awesome. Snapdeal.com brings Brand Factory Sale. A phenomenon Sale that offers Flat 50% for kids on 500+ Brands and 255K+ products. There are no promo codes to be applied. Just the lowest prices on fashion gear for kids. You can even return your shopped products if sizes don't match. There is the Lowest Price, umpteen options and brands available at the click of a mouse! So come make the most of Snapdeal Brand Factory Sale today and see your pockets smile with discounts, in the process bring umpteen happiness to your kids.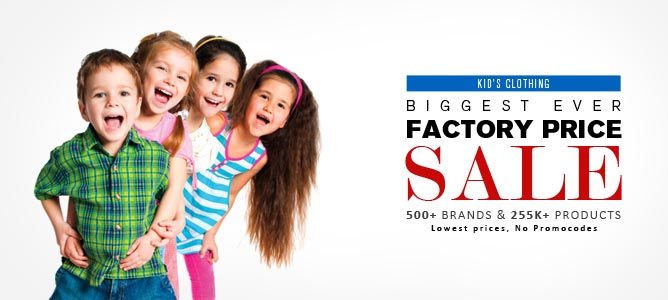 Who can avail of Snapdeal Brand Factory Sale?
The Gen X never gets tired when it comes to trying new shoes, shorts, shirts, frocks and style accessories. The Snapdeal Brand Factory Sale brings something for kids of all age groups. From Infants of 0-2 yrs, Girls and Boys of 2-8 yrs and 8 yrs and above there is something ins fore for every Baba and Baby.
Brands for Shopping in Snapdeal Brand Factory Sale
If you thought that only the adults are brand conscious think again. Indulge in Brand Factory Sale brought by Snapdeal  and shop for Gini & Jony, Disney, Barbie, Biba, Mini Club, Nautinati, Just Cubs and more fashion labels.
Product Range on offer in Snapdeal Brand Factory Sale
Just about anything and everything is up for grabs in this looked forward to Sale. Summer Frocks, Party Wear Dresses, Rompers & Suits, Baby Gift Sets, T-Shirts Combo, Shorts Combo, Skirts, Shirts, Leggings, Kurtas, Pyjamas & Dhotis, Shorts & Capris, Jeans, Salwar Kameez & Kurtis, there is everything on discount.
In short, your quest for infant to baby clothing is happily met with in Snapdeal Brand Factory Sale as you would find all sorts of baby clothes here. Whether you are feeding your baby or you have to buy baby sets as gifts, there is a variety of new-born clothes for you to indulge in. There is a plethora of options and designs to fulfill your tastes and budget. So if you are in need of baby clothes, come check them out to your heart's content at Snapdeal Brand Factory Sale till stocks last.